GiftMilk, a School Milk Program in India
Providing nutrition support to children, helping eradicate malnutrition.
The GiftMilk program was established by National Dairy Development Board (NDDB), India in the year 2016 with the objective of providing nutrition support to children through nutritious products and thereby contribute to help eradication of malnutrition.
The program covers 11 States of India – Delhi, Gujarat, Jharkhand, Maharashtra, Manipur, Nagaland, Sikkim, Tamil Nadu, Telangana, Tripura and Uttar Pradesh
School students of 5-15 years age – encompassing 67,000 students in 155 schools.
The target group is the children in the government schools studying in 1st class to 10th standard. Priority is given to female students.
In operation since 2016, the program provides students with 200ml of vitamin A and D fortified, flavoured, 3% fat pasteurised milk on every working day.
200ml vitamin A & D fortified flavoured 3% fat pasteurized milk
School administrations, education departments, donor partners, dairy partners and students.
The NDDB Foundation for Nutrition (NFN) distributes funds under the Corporate Social Responsibility (CSR) of different organizations such as Public Sector Undertakings (PSUs), Corporates, Voluntary Organisations, State Governments and Individual donors.
So far, 12 donor partners have supported the GiftMilk program. Technical and infrastructural support is provided by partner organizations such as Mother Dairy Fruits & Vegetables Limited, TATA Trusts, IDMC Limited etc.
A web-based platform is used for real time monitoring of transactions of school-wise GiftMilk supply and its consumption as well as fund utilisation to ensure transparency and accountability. 
The system provides regular reports on daily and monthly, school-wise units of milk supplied to the stakeholder i.e. donors, officials etc., Feedback from all stakeholders is incorporated regularly to ensure accountability and transparency of the program. 
Seeing the beneficial impacts of the GiftMilk program on the overall development of children, the State Government of Jharkhand has adopted GiftMilk as a State Policy and initiated supply of milk in the entire State. 

NDDB Foundation for Nutrition (NFN)
After two years of implementation of the program in schools of Latehar district of Jharkhand, India, an Impact Assessment study of the GiftMilk program was conducted by Rajendra Institute of Medical Sciences, Ranchi (RIMS). The study reported a significant impact on the attendance, cognition and physical health of the school children. 
There were fewer children with health related issues in the intervention group (5.4%) as compared to control group (13.1%). In the cognitive domain, 24.1% children in intervention group had normal to superior IQ than 16.5% in control group. Serum Vitamin B12 and calcium levels were significantly improved in the intervention schools. 
Cumulative attendance had increased by more than 10% in the intervention schools. There was also a progressive decrease in absenteeism and the number of stunted children in intervention schools.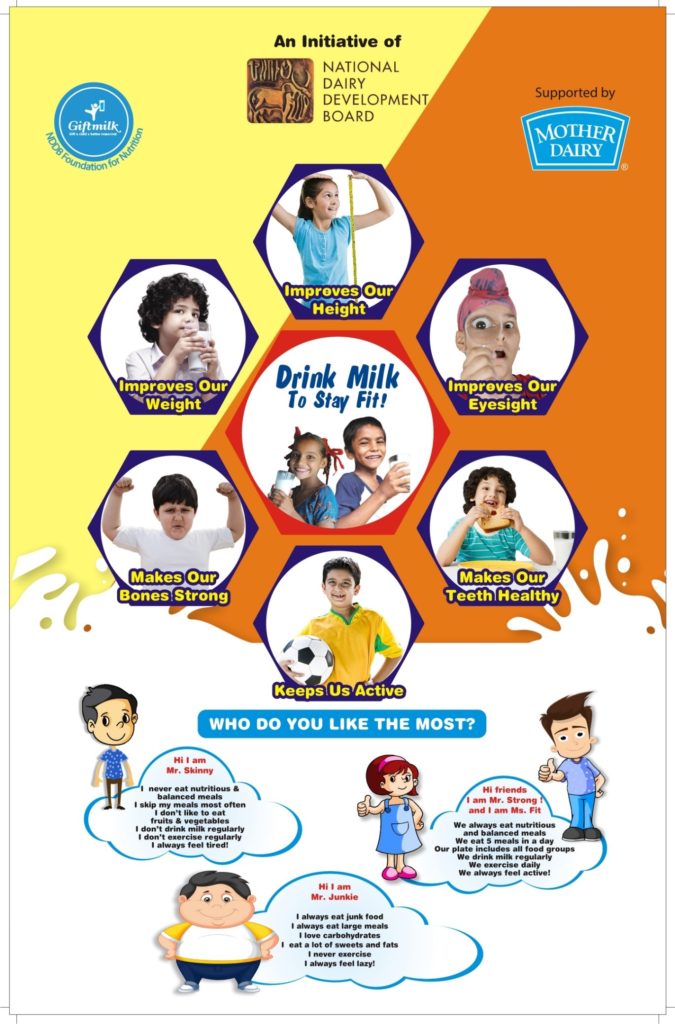 Executive Director, National Dairy Development Board (NDDB) Anand – 388001 Gujarat, INDIA
Tel: +91-2692-226151, 226149